Onward Digital Student Experiences
Keep Students Moving Forward
The Way Students Engage Has Changed
Colleges and universities face a challenging enrollment landscape, fueled by demographic shifts and decreasing budgets. Meanwhile, today's prospective students have more options for higher education than ever before – and their expectations are higher too.
As they conduct their research and begin to interact with institutions, they expect a seamless and engaging experience with a clear path to enrollment. Today's phone-averse prospective student has a 'digital-first' mindset and expects high-touch, digital engagement throughout the enrollment process. Does your institution utilize a sophisticated, multi-channel engagement strategy to meet the needs of today's learners?
The Onward engagement platform was developed to give students the experience they crave. And a better student experience will empower your institution to stand out, keep prospects engaged, and help your enrollment team focus on students who are ready to take the next step.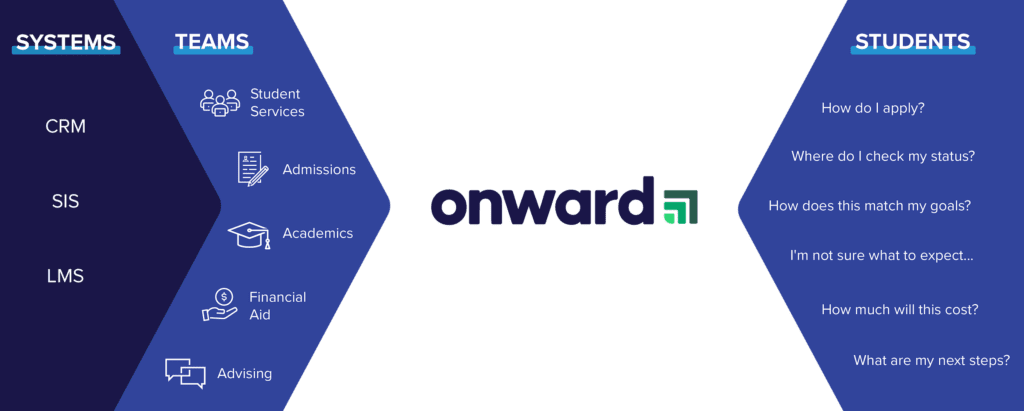 Your Catalyst for Enrollment and Persistence
The Onward Student Engagement Platform delivers a suite of enhanced, personalized digital student experiences and multi-channel nurturing strategies for every stage of the student journey. Sleek, modern, and tech-enabled, Onward provides students with immediate engagement and personalization at scale — each 1:1 interaction is fueled by behavior-based triggers for a custom approach to meet each student's individual needs.
Onward provides a full-service solution that delivers an interactive, personalized prospective student experience that stands out – while freeing your enrollment team's bandwidth for conversations that matter.
Reduce inefficiencies, boost enrollments, and drive retention with Onward
Our partners have seen transformational results across the student journey:
On average, 85% of prospects engage with a post-inquiry experience
45% clicked Apply or Call on average
For one client, started applications increased by 252%
For one client, prospects that engaged were 186% more likely to submit an application
Your Partner in the Digital Student Experience
Onward offers end-to-end student journey support, providing a modern solution to student engagement. From first impression to graduation, Onward has an experience to keep students engaged and moving forward. It's unlike other digital engagement solutions out there. Here's how:
Full-Service Solution
When you partner with Onward, our team handles it all: discovery, creative development, experience deployment, reporting, and optimization.
Built to Scale
One digital experience can support multiple programs, schools, and even brands. Expanding experiences to additional journey stages is simple and fast.
Powered by Variable Data
The way Onward works is different. The platform utilizes a robust variable database to create personalized communications, empowering outreach and follow-up that build on what prospects have told us about themselves.
Quick Start
Our launch-and-learn approach reduces opportunity costs. Get up and running in just six to eight weeks.
Higher Ed Exclusive
Armed with years of performance data, the Onward platform and team are focused exclusively on the student journey.

Transform Your Enrollment Strategy
Onward's data-informed, proprietary technology leverages robust behavioral intelligence that informs your marketing enrollment teams about what your audience cares about, as well as what action to take on an individual contact record.
It's Time to Differentiate
Interested in learning how Onward fits into your enrollment strategy?
Together, we can differentiate your student experience through robust, personalized digital student journeys.
The Onward team can help.